Written by Alyssa Sonnenburg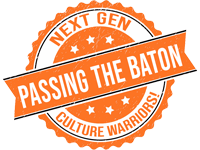 The next generation of culture warriors hope to make a difference and they are an answer to our prayers. We hope to encourage and mentor these young contributors so they can take the baton from us in the future. God's gift of liberty and self-government must be fought for and protected. The fundamental principles of faith, virtue, marriage and family must be upheld and taught. Please pray for these bold young culture warriors and extend to them some grace as they hone their skills.
In this episode of Spotlight, Monte Larrick and David Smith sit down with Dr. Mark Zumhagen, MD, to discuss the resurgence of COVID-19.
Dr. Zumhagen has been practicing family medicine since 1986. In 2009, he opened his private, holistic practice in Orland Park called Fearfully and Wonderfully Made with the mission of re-activating "the body's own healing ability that God put in there."
In this episode, Dr. Zumhagen discusses the banning of Ivermectin, the outlawed use of Hydroxychloroquine, the emergency use of the vaccine, and the side effects of this experimental vaccine.
Dr. Zumhagen also highlights the importance of knowing the past in order to be prepared and informed for the future.
This is an interview you will not want to miss.
Listen to "Is Covid Coming Back?" anywhere you find podcasts or click the link below.
To learn more about Fearfully and Wonderfully Made, CLICK HERE.
---