Written by Alyssa Sonnenburg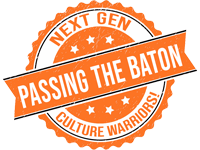 The next generation of culture warriors hope to make a difference and they are an answer to our prayers. We hope to encourage and mentor these young contributors so they can take the baton from us in the future. God's gift of liberty and self-government must be fought for and protected. The fundamental principles of faith, virtue, marriage and family must be upheld and taught. Please pray for these bold young culture warriors and extend to them some grace as they hone their skills.
This episode of Illinois Family Spotlight features remarks made by Kevin Sorbo during IFI's 2022 Faith, Family & Freedom Banquet.
Kevin Sorbo is an actor, director, author, and is best known for his role in Hercules: The Legendary Journey, Andromeda, and God's Not Dead, to name a few. He has also become an outspoken and witty conservative pundit with 1.7 million Twitter followers. We recommend that you follow him @ksorbs.
In the first part of his speech, Kevin shares his experience with cancel culture in Hollywood and a health crisis that completely changed his life.
He also emphasizes the importance of fighting the fight of faith, family, and freedom for the sake of our nation and our nation's children.
It happened everyone. What are we going to do about it? We're going to fight this evil that denegrates the family, destroys our children, dishonors God the Father. The title of this banquet is Faith, Family and Freedom. Why? Because we know that it matters– that's why.

Faith defines us. Faith is the cornerstone upon which we rely. It orders our world, informs our decisions, and structures our thoughts… Family is what makes it all worthwhile… Freedom– authored by Jesus Christ Who died on the cross for us. Freedom is the undergirding for the whole structure. You cannot practice your faith, you cannot protect your family without freedom.
This is a speech you will not want to miss.
Listen to Spotlight #365 anywhere you find podcasts or click the link below.
If you want to learn more about Kevin and Sam's film studio, Sorbo Studios, click HERE.
---