Written by Alyssa Sonnenburg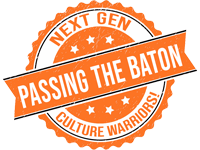 The next generation of culture warriors hope to make a difference and they are an answer to our prayers. We hope to encourage and mentor these young contributors so they can take the baton from us in the future. God's gift of liberty and self-government must be fought for and protected. The fundamental principles of faith, virtue, marriage and family must be upheld and taught. Please pray for these bold young culture warriors and extend to them some grace as they hone their skills.
In this episode of Illinois Family Spotlight, Dave Smith and Monte Larrick sit down with Evelyn Stenzel.
Evelyn works with the Southside Pregnancy Center and travels throughout the greater Chicago area for the purpose of equipping Christians with the pro-life message.
Part of Evelyn's ministry, "Equipped!", includes informing pro-life advocates of abortion procedures and the impact abortion has on both the unborn baby and the mother. In the interview, she comments,
Many people that are pro-life honestly are unfamiliar with abortion procedures, the impact of abortion– of course on the unborn but also on the mother…
Mentioned in the podcast is Evelyn's Equipped! Pro-life Resource List, the Abortion Pill Reversal page, post-abortion support, and other great handouts that we are happy to make available to you:
This is a very informative interview that you will not want to miss.
Listen to Illinois Spotlight episode #372 anywhere you find podcasts or click the link below.
To learn more about Southside Pregnancy Center and their ministry, CLICK HERE.
To learn more about Be a Voice for Life and Stenzel's equipping ministry, CLICK HERE.
---