Written by Alyssa Sonnenburg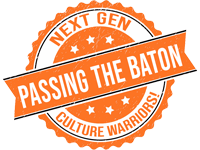 The next generation of culture warriors hope to make a difference and they are an answer to our prayers. We hope to encourage and mentor these young contributors so they can take the baton from us in the future. God's gift of liberty and self-government must be fought for and protected. The fundamental principles of faith, virtue, marriage and family must be upheld and taught. Please pray for these bold young culture warriors and extend to them some grace as they hone their skills.
In this episode, Illinois Family Spotlight features remarks and insights made by the honorable Sam Brownback that took place during an IFI Forum on religious liberty.
Sam Brownback served as governor of Kansas, represented the people of Kansas in the U.S. House & Senate during President Trump's administration, served as the U.S. Ambassador at Large for International Religious Freedom, and is currently the chairman for the National Committee for Religious Freedom.
During his speech, Brownback continually emphasizes the historic theme of religious liberty that has existed in America since its founding:
This [religious liberty] is how we built this incredible, diverse nation. And it has not been without difficulties, and we haven't always gotten it right… This [freedom of religion] is absolutely essential to be able to operate this nation.

This is the lead nation on religious freedom. I've worked and been around the world on this topic, and everyone watches here because this is actually a pretty tough thing to get done. Your dominant religion wants to persecute your minor religions…
With this foundation laid, Brownback transitions to the attacks on religious liberty in the current American culture and what conservatives can do about it.
This is a speech you will not want to miss.
Listen to Spotlight episode #366 anywhere you find podcasts, or you can click the link below.
For more information on the National Committee for Religious Freedom, click HERE.
---