Written by Alyssa Sonnenburg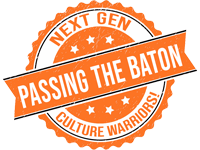 The next generation of culture warriors hope to make a difference and they are an answer to our prayers. We hope to encourage and mentor these young contributors so they can take the baton from us in the future. God's gift of liberty and self-government must be fought for and protected. The fundamental principles of faith, virtue, marriage and family must be upheld and taught. Please pray for these bold young culture warriors and extend to them some grace as they hone their skills.
This episode of Illinois Family Spotlight features remarks given by Sam Sorbo at Illinois Family Institute's 2022 Faith, Family, and Freedom Banquet.
Sam Sorbo is an actress, filmmaker, radio host, and a staunch advocate for educational freedom. Her book, They're Your Kids: An Inspirational Journey from Self-Doubter to Home School Advocate, chronicles her family's experience with homeschooling.
In her speech, Sam insightfully notes the lies of the educational framework in America, what true education is, and how parents can fight for their child's education.
Sam, in defining education, notes the following:
Education is at least a quest for knowledge… the search for God.
Sam Sorbo also makes an important connection with the education system in American and the culture of "trust the expert" that is embodying the nation today.
This is a speech that you won't want to miss.
Listen to Illinois Family Spotlight episode #364 anywhere you find podcasts or click the link below!
For more information on Sam's book, They're Your Kids, click HERE.
For more information on Sam's Homeschooling Workbook, The Playbook For Home Learning, click HERE.
---