Written by Alyssa Sonnenburg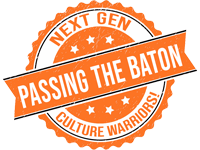 The next generation of culture warriors hope to make a difference and they are an answer to our prayers. We hope to encourage and mentor these young contributors so they can take the baton from us in the future. God's gift of liberty and self-government must be fought for and protected. The fundamental principles of faith, virtue, marriage and family must be upheld and taught. Please pray for these bold young culture warriors and extend to them some grace as they hone their skills.
In this podcast episode of Illinois Family Spotlight, Monte Larrick interviews Dr. Voddie Baucham regarding the issues of education, worldview, and critical race theory. The latter threatening to divide the Church and nation. There is an agenda to push a "false divide" between black and white people. In an interview with Christianity Daily, Dr. Baucham points out:
"So the Jew-Gentile divide that Paul talks about in the latter half of Ephesians 2, that is a real divide that God established. … The black-white divide is not a real divide, it's not one that God established. So if God speaks to something that will obliterate a real divide that He established, we better well believe He will also take care of a false divide that men established."
Dr. Baucham is an author, conservative commentator, is the head of Voddie Baucham Ministries, and also serves as the Dean of Theology at African Christian University in Zambia.
When asked how he would define a quality, Christian education, Dr. Baucham notes,
A quality, Christian education is an education that is rooted and grounded in a biblical worldview. It's an education that seeks excellence in the pursuit of truth, beauty, and goodness to the glory of God. It's an education that is uncompromisingly rigorous in terms of its academics and is uncompromising and unwavering in terms of its commitment to biblical truth.
Dr. Baucham covers the issue of finding proper Christian colleges and the importance of rejecting public education as a viable option for Christians families. Dr. Baucham goes on to emphasize that no matter the environment, it is the parents' duty to disciple their children.
It's my duty and my responsibility to disciple my children. As parents, God sent them home to us and ultimately, their discipleship is our responsibility.

And so, regardless of what kind of decisions we make related to our children's education, that is a decision that is occurring within the context of our duty and responsibility to disciple our children. We can't do that my proxy. We don't just hand that off. 
Dr. Baucham continues the interview by discussing the social justice movement and the opponent that Christianity is to this false worldview. In response to the question of how Christians counter this movement, Dr. Baucham states,
Silence is not an option. Neutrality is not an option. And, whether we like it or not, this has been brought to our doorstep. We have an adversary, who is actively engaging with us and actively warring against us and we have to acknowledge that… Ignorance of this will be, and has been, catastrophic.
This is an interview you will not want to miss. Listen to Illinois Family Spotlight Episode #357 anywhere you find podcasts or click the link below.
To learn more about Voddie Baucham Ministries, click HERE.
To order a copy of Voddie Baucham's book, Fault Lines: The Social Justice Movement and Evangelicalism's Looming Catastrophe, click HERE.
---