Written by Alyssa Sonnenburg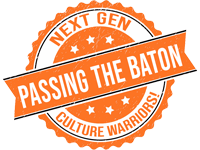 The next generation of culture warriors hope to make a difference and they are an answer to our prayers. We hope to encourage and mentor these young contributors so they can take the baton from us in the future. God's gift of liberty and self-government must be fought for and protected. The fundamental principles of faith, virtue, marriage and family must be upheld and taught. Please pray for these bold young culture warriors and extend to them some grace as they hone their skills.
This Spotlight episode features Scott Phelps, executive director of Abstinence and Marriage Partnership, and his speech on The Success Sequence– the three steps to a successful life.
The first step to a successful life is to complete a high school level of education. The second step is to get a stable job.
Finally, the biggest indication for a successful life is to keep sex and children in the context of marriage alone.
This is an informative and encouraging episode you will not want to miss!
Listen to "The Success Sequence" anywhere you find podcasts or click the link below!
If you are interested in learning more about A&M Partnership, click HERE.
---