Written by Alyssa Sonnenburg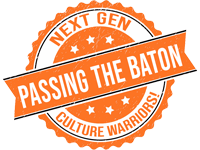 The next generation of culture warriors hope to make a difference and they are an answer to our prayers. We hope to encourage and mentor these young contributors so they can take the baton from us in the future. God's gift of liberty and self-government must be fought for and protected. The fundamental principles of faith, virtue, marriage and family must be upheld and taught. Please pray for these bold young culture warriors and extend to them some grace as they hone their skills.
In this episode of Spotlight, we are featuring Part 2 of David Smith and Monte Larrick's conversation with Dr. Mark Zumhagen, MD.
As noted last week, Dr. Zumhagen has been practicing family medicine since 1986. In 2009, he opened his private, holistic practice in Orland Park called Fearfully and Wonderfully Made with the mission of re-activating "the body's own healing ability that God put in there."
In this segment, Dr. Zumhagen goes back to the basics– the foundation of science. Part of this foundation is answering the question of how the world came into being and where our sources of knowledge come from in light of that answer.
This is an excellent interview that you will not want to miss.
Listen to "The Foundation of Science" anywhere you find podcasts, or you can click the link below.
If you are interested in learning more about Fearfully and Wonderfully Made, click HERE.
---
In 2022, Dr. Zumhagen spoke at the IFI Medical Freedom Forum giving us his analysis of the war between science that acknowledges God and science that denies God. Illustrating this fact were the two chairs on the stage–one containing a Bible and one empty–a poignant example of the degradation that has ensued since God was removed from science dating back to 1859.
Dr. Zumhagen explains that without Scriptural truth, scientists are viewing science through the limited lens of Darwinian "truth" are left unable to answer essential questions.  Watch/listen his twenty minute presentation HERE.
Please share this with your like-minded friends.
---