Written by Alyssa Sonnenburg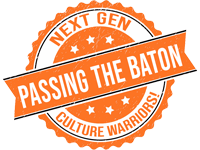 The next generation of culture warriors hope to make a difference and they are an answer to our prayers. We hope to encourage and mentor these young contributors so they can take the baton from us in the future. God's gift of liberty and self-government must be fought for and protected. The fundamental principles of faith, virtue, marriage and family must be upheld and taught. Please pray for these bold young culture warriors and extend to them some grace as they hone their skills.
16 years ago, Planned Parenthood opened an abortion facility in Aurora, Illinois. On the anniversary of this opening, pro-life activists held a prayer vigil outside of the building featuring Pastor Randy Schoof of Warehouse Church and Eric Scheidler, Executive Director of Pro-Life Action League.
In his speech, Pastor Schoof encouraged those in attendance to continue to pray for the end of abortion, to plead for God's mercy, and to continue the work of sidewalk counseling outside of abortion sites.
Eric Scheidler, despite the backlash and difficulty of working in the pro-life movement, chooses to see the optimism in the fight for life. He comments,
As grim of an anniversary as this is, the incredible miracles that have happened, the way that God has brought people together, the way He has saved children from abortion, the way He has saved couples, saved families out here. It's truly inspiring and something that all of us can do even if our general assembly is hell-bent to expand abortion as much as they can.
This is an inspiring and informative episode you won't want to miss.
Listen to "Fighting For Life In Your Community" anywhere you find podcasts, or click the link below.
If you are interested in learning more about Pro-Life Action League, CLICK HERE.
---