Written by Alyssa Sonnenburg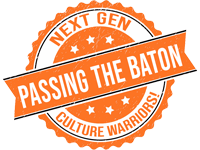 The next generation of culture warriors hope to make a difference and they are an answer to our prayers. We hope to encourage and mentor these young contributors so they can take the baton from us in the future. God's gift of liberty and self-government must be fought for and protected. The fundamental principles of faith, virtue, marriage and family must be upheld and taught. Please pray for these bold young culture warriors and extend to them some grace as they hone their skills.
In this episode of Spotlight, Monte Larrick interviews Phil Price and Catharine Walker outside the Aurora Planned Parenthood clinic, where more than 400 surgical abortions are performed every single month.
Price and Walker are two of the leaders of 40 Days For Life Aurora. 40 Days For Life is a powerful Christian prayer campaign that brings 24-hour prayer vigils outside abortion centers in Illinois, across the nation, and around the world. According to Phil Price,
Up to 75 percent of women who come for an abortion at an abortion center turn away when there is a peaceful prayer presence across the street.
40 Days For Life has saved 23,664 lives since 2007, closed 145 abortion centers, and have caused 251 abortion workers to quit.
This is an amazing interview you will not want to miss.
Listen to "40 Days For Life" anywhere you find podcasts or click the link below.
If you are interested in learning more about the ministry of 40 Days For Life, click HERE.
---