Written by Alyssa Sonnenburg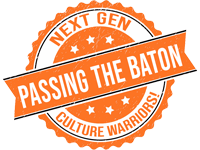 The next generation of culture warriors hope to make a difference and they are an answer to our prayers. We hope to encourage and mentor these young contributors so they can take the baton from us in the future. God's gift of liberty and self-government must be fought for and protected. The fundamental principles of faith, virtue, marriage and family must be upheld and taught. Please pray for these bold young culture warriors and extend to them some grace as they hone their skills.
In this episode of Illinois Family Spotlight, we are featuring the second part of Scott Klusendorf's speech at the 2023 Worldview Conference.
Scott Klusendorf is the founder and president of the Life Training Institute, which is an organization that is dedicated to equipping pro-life advocates to effectively defend Life in the public square. He is the author of The Case for Life: Equipping Christians to Engage the Culture.
In this portion, Klusendorf tackles the topic of how one's church can effectively engage the culture with pro-life apologetics. Most significantly, he addresses the cultural lie of body-self dualism, which teaches the human person and the human body as split entities. He notes,
You are not a mere body. You are not a mere soul. You are a dynamic union of body and soul, and that's the biblical worldview. But that's not the worldview we have right now with body-self dualism.

It [body-self dualism] is the worldview the culture is buying into and that's why they say embryos and fetuses have no right to life– because they're not even there yet as persons. They have bodies but there's no "you" there to speak of.
This is an incredible speech you will not want to miss.
Listen to Spotlight Episode #371 anywhere you find podcasts or click the link below!
To learn more about the Life Training Institute, click HERE.
---