Written by Alyssa Sonnenburg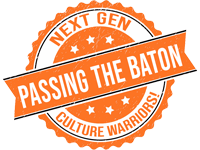 The next generation of culture warriors hope to make a difference and they are an answer to our prayers. We hope to encourage and mentor these young contributors so they can take the baton from us in the future. God's gift of liberty and self-government must be fought for and protected. The fundamental principles of faith, virtue, marriage and family must be upheld and taught. Please pray for these bold young culture warriors and extend to them some grace as they hone their skills.
In this special episode of Illinois Family Spotlight, Monte Larrick sits down with award-winning swimmer and speaker, Riley Gaines.
Riley Gaines was a member of the University of Kentucky's NCAA swim team and the 2022 Southeastern Conference Women's Swimming and Diving Scholar of the Year.
In March of 2022, Riley Gaines, along with her teammates, was forced to share a locker room and swim alongside a biological male, Will Thomas. Gaines subsequently tied with Thomas, but was forced to give the trophy to Thomas for the purpose of publicity and inclusion of transgender "women" in sports.
Gaines is now using her experience to speak out for the protection, fairness, safety, and privacy of women's sports. She is also an outspoken ally of Title IX.
In response to these experiences, Riley started the Riley Gaines Center, which is dedicated to training female athletes, coaches, parents, medical professionals, and other allies,
"to fearlessly, relentlessly, and eloquently defend America's founding principles and to become powerhouse leaders who work in positions of influence to keep America true to those principles."
This is an interview you will not want to miss. Tune in and listen to episode #368 anywhere you find podcasts or click the audio link below.
To learn more about the Riley Gaines Center, click HERE.
---