Written by Alyssa Sonnenburg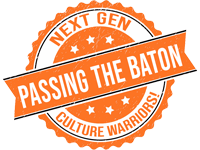 The next generation of culture warriors hope to make a difference and they are an answer to our prayers. We hope to encourage and mentor these young contributors so they can take the baton from us in the future. God's gift of liberty and self-government must be fought for and protected. The fundamental principles of faith, virtue, marriage and family must be upheld and taught. Please pray for these bold young culture warriors and extend to them some grace as they hone their skills.
In this episode of Illinois Family Spotlight, Monte Larrick discusses the pro-life movement with Eric Scheidler, who is the executive director of Chicago's Pro-Life Action League. During their annual "Face the Truth" tour, dozens of volunteers line sidewalks adjacent to streets near busy intersections in Chicago and the suburbs, silently and often prayerfully holding photographs of aborted babies.
When asked about the public reaction to these photographs, Scheidler notes,
We expected to see more hostility and anger and we've had some incidents… But, what I've found more notable is kind of a lack of curiosity… it seems more difficult to get people to take a piece of literature from you… That's troubling. The fact that people aren't even curious to see what somebody on the other side says…
In this interview, Eric Scheidler challenges Christians to take action either through joining the movements in the public square or donating to your local pregnancy care center. Scheidler also discusses Senate Bill 1909, the lies that are included in that bill, and Pro-Life Action League's dedication to fighting it.
This is an interview you will not want to miss. Listen to Illinois Family Spotlight episode #359 anywhere you find podcasts or click the link below.
Click HERE for the complete "Face the Truth" Tour itinerary!
If you are interested in donating to the Pro-Life Action League and their cause, click HERE.
If you are interested in learning more about SB 1909, click HERE.
---