Written by Brian Wencel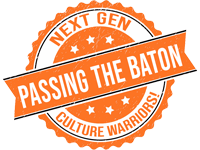 The next generation of culture warriors hope to make a difference and they are an answer to our prayers. We hope to encourage and mentor these young contributors so they can take the baton from us in the future. God's gift of liberty and self-government must be fought for and protected. The fundamental principles of faith, virtue, marriage and family must be upheld and taught. Please pray for these bold young culture warriors and extend to them some grace as they hone their skills.
Not too long ago, to be a politician or a member of the government, one needed to follow certain customs and social norms. These unspoken rules weren't complicated, nor were they overly restrictive. Politicians could joke around now and again, and they could even act casually at times, but they still worked to keep an image of professionalism and respectability.
Evidently, the days of trying to act normal and respectable as a public figure—or, let's be honest, as a private citizen—are a thing of the past. I believe there are multiple reasons for this lack of effort; one of them could be that the idea of professionalism is now seen as being "uptight" or acting overly "self-important." Another reason, I believe, has its roots in the Pride movement. That might sound far-fetched, but let's look at some examples of a lack of professionalism (to put it mildly).
A well-known example most of you probably heard about or (unfortunately) saw took place at the White House during a recent Pride event. A biological male who identifies as a trans woman and goes by the name Rose Montoya went topless on the White House lawn in what he called "a quick moment of fleeting and overwhelming trans joy." What exactly "trans joy" is remains a mystery, and why it made this guy want to go topless on the White House lawn is even more confusing. Needless to say, it was extremely inappropriate behavior, especially at the White House.
The Biden Administration made a statement denouncing the behavior and, surprisingly, the trans activist himself even apologized for the situation, although his response could at times be interpreted more as "I'm sorry you are mad" than a genuine apology. Although both parties involved either apologized or denounced the actions of the trans activist, the fact remains that this event took place at the residence of the leader of the free world.
While some may argue that this was outside of White House control, we completely disagree. The LGBTQIA movement has made it clear that obscenity is part of its agenda. In fact, there are countless videos from Pride events where people have exposed themselves and engaged in inappropriate, sexual, vulgar, and obscene behavior and speech, so hosting an event to celebrate Pride—even at the White House—invites the same kind of behavior.
A lesser-known, local incident recently occurred at an Illinois Pride parade. Our very own Secretary of State, Alexi Giannoulias, clearly looking for attention, tweeted a picture of himself at a Pride parade in a wet, see-through shirt. The caption reads,
"Thank you Illinois for making me so proud to live here and work for you! #Pride2023"
A decade ago, this type of behavior would have been seen as unacceptable or at the very least inappropriate and unprofessional. But now, his Twitter comments are filled with people not only supporting him but also fawning over his looks. This type of behavior used to be mocked, just like with Putin and his shirtless photos on horseback, but now many people see it as normal or even admirable.
Narcissistic behavior among politicians shouldn't be shocking to us, especially among those attending Pride parades. After all, LGBTQIA affirmation and/or activism requires adherents to put aside inhibitions, reject modesty, and openly dismiss traditional social norms.
They can't
be seen to feel embarrassed about anything since that would "invalidate their lived experiences" and require them not to "live as their authentic selves." There can't be social norms because the members of this movement claim everything is normal, even laudable, including going topless at the White House.
As supporters of the LGBTQIA movement, these public figures give themselves a free pass to do whatever they want, even to the point where they degrade themselves in public by flashing a crowd at the White House or trying to gain approval on Twitter by posting revealing photos of themselves. But to them, self-consciousness, shame, or guilt are anathema to the movement. In their eyes, anything goes.
The fact that they often allow children to be subjected to the exhibitionism of perverted adults, not to mention the ideology, is outrageous. Babies, toddlers, pre-teens are among the spectators that line parade routes. Indoctrinated older teens and twenty-somethings also cheer from the sideline, oblivious to the depravity being sold to them by much older would be groomers and their allies. Meanwhile they are taught to hate orthodox people of faith who uphold Biblical standards of sexual morality.
The Pride movement is slowly losing steam in the culture. This Pride month was tame compared to others. There are a lot of reasons for this, but one is that people are getting sick of these self-absorbed activists who will do anything for the smallest bit of attention. LGBTQIA activists are trying to make it normal for people to prostitute themselves for attention and acceptance, but with the recent depravity on display during Pride events and even at the White House, they may have overplayed their hand.
---
Brian Wencel is a current student at Colorado Christian University who has been raised in the faith and Christian education ever since preschool. He is a devoted follower of Jesus and an advocate for conservatism.
---