Written by Daniel Howoritz
Oil is king when it comes to energy policy, but coal and natural gas are just as important. In the case of all three fossil fuels, Western governments have engaged in an all-out war on exploration, production, and generation, banned Russia's exports of those products, and then gave a monopoly to China, inducing the worst possible outcome for the American consumer and our national security.
Despite the two-decade war on coal by the climate Nazis, coal is still the largest source of electricity around the globe and is the second-largest source of energy in general. In the U.S., coal was once king, composing roughly half of our electricity source just 15 years ago, but has dropped precipitously because of the natural gas boom and because of destructive eco policies. Yet it still accounts for 21% of our electricity source, so shocks to the system are going to harm American consumers.
The price for thermal coal is now $350 per metric ton, roughly three times the historic average.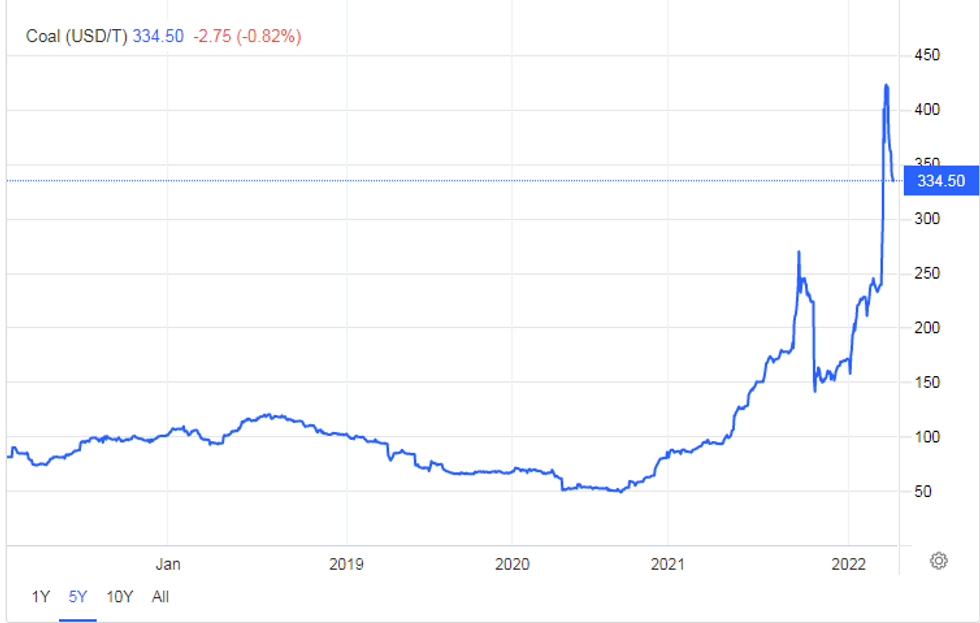 America is the Saudi Arabia of coal. We should be able to flood the market with coal. Sadly, thanks to the war on coal production intensified through climate mysticism, we have no hand to play as our government shuts off exports from Russia. Given that coal accounts for 35% of global electricity use and Europe gets 70% of its coal from Russia, the coal crisis is now worse than the oil crisis. And guess who stands to benefit? China, of course. Thanks to the disdain for our own coal by our own politicians, the evil communist regime is now the global champion of coal production and exports.
Last year, China set another record, producing more than 4 billion metric tons of coal, more than seven times our production level, accounting for half of the total global coal production, according to the latest report from the International Energy Agency. The U.S. and the European Union account for just 6% and 3% of coal production respectively.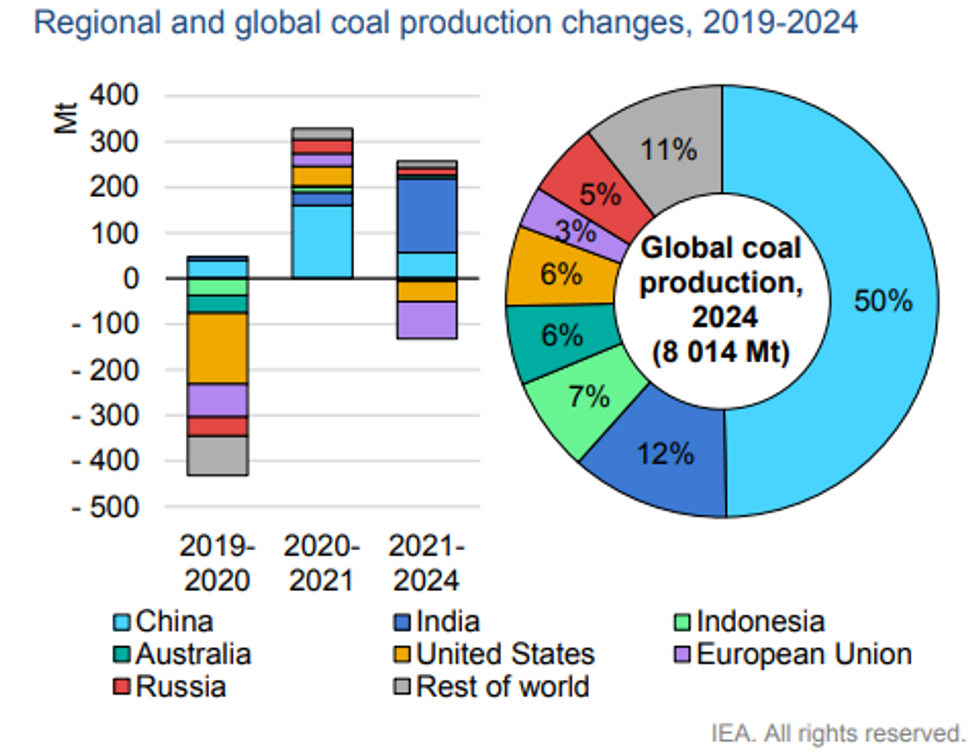 China inaugurated the first of its four planned 1,000-megawatt unit coal-fired power plants last year. China, along with India, Indonesia, Japan, and Vietnam, plans to build more than 600 coal power units, which will constitute 80% of the world's investment in coal energy. Meanwhile, the U.K. plans to decommission all its coal power plants by 2024. In the U.S., coal production has been declining steadily since 2007, and if the eco-fascists have their way, it will be extinct by the end of the decade. And no, it's not because we don't have God-given resources. Our coal reserves are estimated at 254 trillion tons, much greater than the reserves of China and Russia.
Yet thanks to the endless regulations, big bank divestments, and threats to shut down coal-fired power plants altogether, investment in coal has plummeted. Our electricity generation from coal power plants is down by nearly two-thirds since 2008. Thanks to numerous regulations during the Obama administration, 250 coal plants closed between 2010 and 2017, leaving us with just 240, less than a quarter of China's inventory. Thus, while our recoverable coal assets are enormous, our electric coal power inventory is running between 85 and 90 million tons, down over 30% since 2020 and more than 50% since 2016, according to the U.S. Energy Information Administration.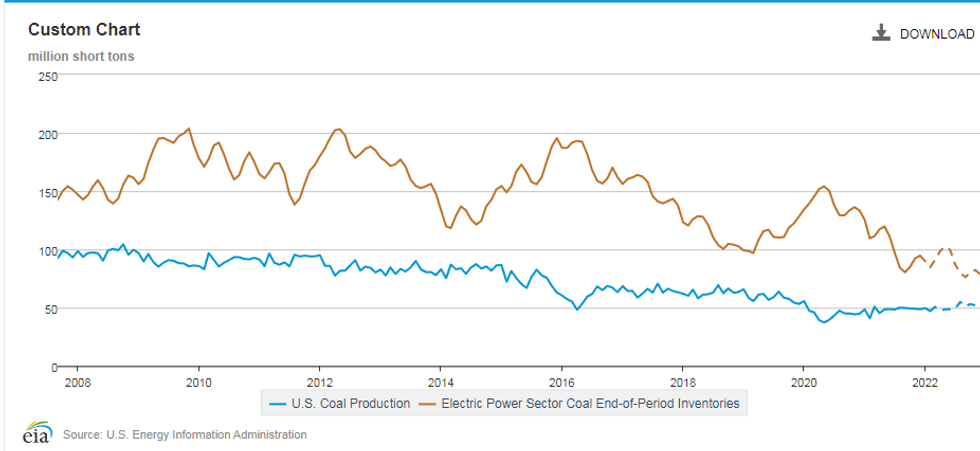 In the first week of his presidency, Biden issued an order essentially shutting off all oil, gas, and coal leases on federal lands. Over 40% of coal production comes from federal lands, mainly in Wyoming and Montana, two states that are monopolized by federal land ownership. Thus, the leasing moratorium is even more harmful to coal production than even oil and gas production.
Is it any wonder why Americans and Europeans are feeling the pain of heating bills from this past winter? Cutting off Russian coal while destroying our own will harm us more than it does Russia and will benefit China. According to the Institute for Energy Research, "Over the past ten years, the U.K. decreased its coal generation by 95 percent and its natural gas generation by 35 percent, increasing wind generation by 635 percent and solar generation by 317 percent." How is that solar and wind working for them now in their time of need?
One would think if Western countries, including our own, declare war on coal, at least they would embrace the abundance of America's clean liquid natural gas. We are already the world's largest producer and exporter of LNG, and we have enough to supply the world for 100 years at the 2020 rate of production. Yet it is worthless without more pipelines to deliver the gas domestically and export terminals to get the gas to the Russian-dependent Europeans. These pipelines have been regulated to death by the feds and in the blue states. We still can't benefit from the enormous reserves in the Marcellus and Utica shale deposits in Appalachia. Now, the Federal Energy Regulatory Commission (FERC) has added greenhouse gas emissions as part of its assessment to approve gas pipelines and export terminals. It has also banned transporting LNG via railways.
Furthermore, the Securities and Exchange Commission (SEC) just voted without congressional authorization to impose a costly 510-page rule on all publicly traded companies to require them to disclose all effects of their operations on "climate change." In general, this rule will be as costly and burdensome on all businesses as the impact of Dodd-Frank and Sarbanes-Oxley. But it will crush all investments in fossil fuels because the rule is built upon the pseudo-science that fossil fuels necessarily cause any weather disaster.
Between the war on leasing and restrictions on fracking, transportation, pipelines, and export terminals, this administration is stifling the cleanest, most efficient fuel that could lower prices of electricity and serve as a bulwark against China and Russia. Thus, LNG prices remain unnaturally high because the climate Nazis would rather we feel the pain than actually end dependence on bad actors.
Much as with COVID, where we saw a government that cried over the human death toll but downright declared war on anyone who would treat the virus early, those who complain about the energy crisis are the ones inducing it. Crushing the American consumer is not a bug of their plan, it is the primary feature, greasing the skids for the next step in the "Great Reset."
---
Daniel Horowitz is a senior editor of TheBlaze and host of the Conservative Review podcast. He writes on the most decisive battleground issues of our times, including the theft of American sovereignty through illegal immigration, the theft of American liberty through tyranny, and the theft of American law and order through criminal justice "reform."